COLA Dean publishes 'Conversations with Graham Swift'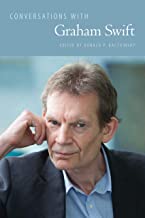 Dr. Donald P. Kaczvinsky, Dean of the College of Liberal Arts and the George E. Pankey Eminent Scholar in English at Louisiana Tech, recently had his edited book, Conversations with Graham Swift, published with the University Press of Mississippi.
Conversations is the first collection of interviews conducted with the author of the Booker Prize–winning novel Last Orders. Beginning in 1985 with Swift's arrival in New York to promote Waterland and concluding with an interview from 2016 that appeared in the Sydney Morning Herald, the collection spans Swift's more than 35-year career as a writer. The volume also includes interviews first printed in English as well as translated from the French or Spanish and covers a wide range of formats, from lengthier interviews published in standard academic journals, to those for radio, newspapers, and, more recently, podcasts.
In these interviews, Graham Swift offers insights into his life and career, including his friendships with other contemporary writers like Ted Hughes and the group of celebrated novelists who emerged in Britain during the 1980s. Swift also notes the influences, literary and personal, that have helped shape his writing career.
Kaczvinsky teaches courses in Modern and Contemporary British Literature and a graduate course in Research and Bibliography.