Tech junior Madison Brown wins General Dynamics Leadership Award
Louisiana Tech junior Madison Brown of Lacombe was awarded the General Dynamics Information Technology (GDIT) Intern Leadership award after completing a 10-week internship with General Dynamics this summer.
An English major concentrating in technical writing, Brown was the only one of GDIT's 115 interns to receive this award.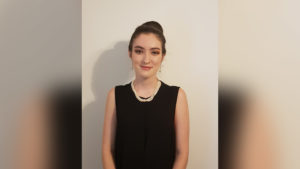 "It's a major accomplishment," said Kirk St.Amant, Eunice C. Williamson Endowed Chair and Director of Tech's Center for Health and Medical Communication. "Madison is our technical communication program's first intern ever with GDIT, so her performance has made an amazing first impression in this process."
The internship was to take place at one of the GDIT facilities in Bossier City, but COVID-19 issues moved all internships to a remote format. That hardly slowed down Brown. GDIT mailed each intern a company laptop, headset, keyboard, and mouse. These materials arrived roughly two days before the start of the internship, June 1.
"I was worried that a virtual internship would mean that I would not gain the same skills and that it would affect my ability to complete tasks," Brown said. "Thankfully, this was not the case. GDIT invested in many communication tools such as Skype, Zoom, Microsoft Teams, and Outlook that allowed interns and employees to interact at a level similar to an in-person experience. Despite the internship being virtual, I don't think that it inhibited my ability to learn, perform, or engage with team members."
Apparently not. She worked on a number of projects, but primarily on the Knowledge Management Team at GDIT. Her main responsibility was to create knowledge articles for Tier 1 agents who worked at the OneGDIT Help Desk and to create knowledge articles for any "end user," or GDIT employees who access knowledge through the Self Service portal.
"Knowledge articles created for Tier 1 agents outline the steps that the agent would use to assist a caller for any given incident," she said. "Knowledge articles developed for end users are steps that a GDIT employee could use to resolve an issue."
She also helped create a training guide that documents the Knowledge Management Team's training process, a document that will be used to inform Knowledge Managers and Knowledge Mentors on the responsibilities, expectations, and deadlines that are to be anticipated throughout the training of a new Knowledge Analyst. 
"Two other tasks I worked on were collaborative projects," Brown said. "One was the monthly intern newsletters, and the other was an internal research project that was conducted regarding GDIT's finance department."
St.Amant said that Brown is "an exemplary of our students," and that her internship is a "major development" for the technical communication program at Tech.
"For starters," he said, "it's been the first step in a process of 'engaged education' we're doing in technical communication, the idea being that we partner with industries, such as GDIT, to assess classes, review curriculum, and coordinate internships to provide students with the educational background needed to succeed in today's economy."
This process includes collaborating with internship providers and industry to identify guest speakers who can present to Tech classes and share industry perspectives and insights on different topics, basically demonstrating to students how the materials covered in classes can connect to workplace contexts.
Brown's internship involved her, the internship provider, and St.Amant. Together, they discussed and concluded, over the time of the internship, which aspects of her coursework prepared her for her internship and what factors the Tech faculty could do to enhance the technical communication program based on the experiences of both Brown and GDIT relating to the internship.
"The objective," St.Amant said, "is to use internships as opportunities to do program assessments in terms of student input and employer input during each internship to allow for continual course and curriculum improvement. We're using these internships to create a 'student synergy' program in which interns agree to share what they have learned during their internships with other students and faculty in the program."
In some cases, this means students working with faculty to revise existing course assignments, materials covered in classes, and approaches to teaching to better reflect workplace trends and expectations. In other cases, interns agree to do a guest lecture in different classes to share what they learned from their internships; this helps students and faculty understand how to apply what students in a class are learning to any workplace trend. Students then have an advantage in how to think about and approach their classroom activities and assignments and contextualize them in terms of how to approach workplace situations.
"It fosters the notion of students learning from their peers — other students — which can include new student-to-student perspectives on how to approach a topic or think about concepts," St.Amant said. "And it encourages a sense of student community and engagement with the technical communication program and with Tech by making student interns play an active and contributing role, both in their education and in the form of their classes and curriculum."
What the trailblazing Brown enjoyed most about the internship was hearing the advice and perspectives that others were willing to share.
"Not only did I get advice from people who had been where I am, but also they shared professional career advice and advice on everyday life," she said. "My favorite piece of advice is to say 'yes' when a new opportunity presents itself; I was told that you may never feel fully qualified or ready for a job, but that you should apply anyway because you never know what might happen if you try. This is advice I took seriously throughout the internship and, beyond building my career, I also hope to apply it in my personal life."
Brown felt "underqualified' when she started her internship, but when she heard she was awarded the opportunity, she was "ecstatic" and "decided I would give it my all even if I had no clue what I was doing."
"About halfway through the internship I had a meeting with my manager," she said. "During this meeting she said how impressed everyone was with how involved I was with others' projects. She also said that others were impressed with how intuitive I was, and this truly boosted my confidence. After the meeting ended I felt that I could handle whatever happened next."
Brown was introduced to the internship program by a University Relations Recruiter for GDIT who was conducting a resume workshop.
"When she noticed I was an English major concentrating in technical writing, she suggested I apply for the internship," Brown said. "After making the recommended adjustments to my resume, I applied for the internship and followed up with her at the career fair that took place two weeks later in the Tonk."
Brown chose English as a major to prepare her for law school. But after completing her internship, she's unsure if she'll pursue a career in law.
"I'm hoping that after I take a few more classes at Tech, I'll have a better idea on whether or not I would like to practice law or become a technical writer," she said.
One thing she's sure of is her decision to attend Tech. She'd already toured three other Louisiana universities before her best friend convinced her to visit Tech during her senior year of high school.
"When I toured Tech, I felt I could call it my second home," Brown said. "I remember thinking how beautiful the campus was and how happy everyone seemed. I was hesitant to attend in the beginning, because LA Tech was known as the college for engineering, architecture, and science. Despite my major being the farthest thing you could get from any of those majors, I decided to listen to my gut and attend Tech."