Debate team adjusts, competes virtually
Although the pandemic hampered many campus activities, the Louisiana Tech Debate Team adjusted with much success. In-person debate competitions were not feasible this fall, but the team adapted by moving to virtual competitions.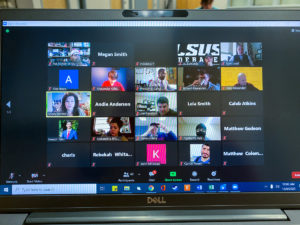 In the season opener hosted by Lee College in Baytown, Texas, junior communication major Kara Taylor was a novice division semifinalist. Skylar Dean, a senior political science major, won the third place speaker award in the junior varsity division.
Junior electrical engineering major Neel Patel was a novice quarterfinalist in the competition hosted by the University of Arkansas in Monticello. Tech alumnus Kendrick Kruskie, a novice competitor last year, earned the second place speaker award in the professional division.
In the Louisiana State University-Shreveport online tournament, Dean excelled as the second place speaker and junior varsity semifinalist. Aria Giacona, a senior majoring in theater, finished as a quarterfinalist in the professional division.
At the virtual Bossier Parish Community College tournament, Tech won second place as a team. Freshman math major Emmitt Antwine was first place speaker and overall champion of the tournament. Katie McKenzie, a senior biomedical engineering major, and Steve Garcia, a senior political science major, were quarterfinalists.
Tech finished fourth overall at Abilene Christian University's virtual tournament. Freshman communication major Nate Goldstein, senior English major Matt Smart, and Taylor each advanced to the elimination rounds in the novice division, which Smart won. Goldstein was a quarterfinalist, and Taylor was the fourth place speaker and semifinalist.
Tech hosted an online team debate tournament Oct. 17-18. It was a success, and because of the online format, schools as far as the University of Alaska in Anchorage were able to compete. Antwine won fourth place speaker.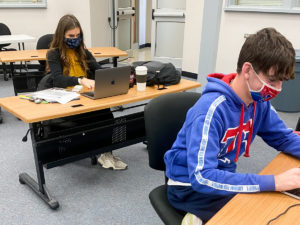 Debate team coach Megan Smith said the team was sad to see its season cut short right before the national tournament.
"For some students, they missed their opportunity to showcase their skills in what would have been their final tournament," Smith said. "For senior members of the team, it was a tough ending to their debate careers."
Smith said the team worked diligently throughout spring and summer to prepare for the transition to online tournaments. "We knew this season would be different," she said, "so we buckled down and researched online platforms that would allow us to continue to thrive as a team."
The schedule for winter quarter includes the Southern Forensics Championship and competitions against both the University of Southern Mississippi and Queens College. For more information, or to become a part of the team, contact Smith at megan@latech.edu or at 318.257.3196.
​