Gehl presents research at DOD-sponsored speaker series
Dr. Robert W. Gehl, F. Jay Taylor Endowed Research Chair of Communication at Louisiana Tech, and colleague Sean Lawson, Associate Professor of Communication at the University of Utah, recently presented research based on their forthcoming book, Social Engineering: How Crowdmasters, Phreaks, Hackers, and Trolls Created a New Form of Manipulative Communication, to a Department of Defense-sponsored speaker series, the SMA (Strategic Multilayered Assessment) Speaker Series.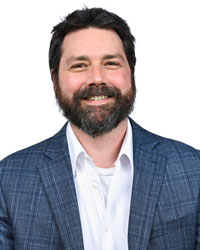 Gehl and Lawson presented their concept of "masspersonal social engineering" — a mixture of hacking and propaganda practices — as a key way to understand recent online manipulation campaigns, including the Russian and Iranian efforts to sow chaos during the 2016 and 2020 US elections.
The pair then responded to many questions about how to apply this concept to counter online misinformation.
The book grew out of a research project Gehl began that focused on how hackers use con artistry — otherwise known as "social engineering" — to gain access to restricted systems. Lawson, an internationally recognized critical security studies scholar who has given lectures to organizations such as NATO, joined the project.
The co-authors met when Gehl was at the University of Utah from 2010-2019, before he became an alumnus of the Fulbright Canada Research Chair program at the University of Calgary and before he came to Tech last year, about the same time the two began writing the book.
"I was fascinated by the social side of security hackers," Gehl said. "We think of them as hiding in basements, hunched over glowing keyboards in the dark. But computer security hackers also have an incredibly social side. They can be friendly — and they can use their social skills to gain the trust of their targets.
"Sean and I also saw that hacker social engineering tells us a lot about online manipulation — the spread of disinformation, conspiracy theories, unethical political communication, and foreign interference in democratic deliberation," he said. "The book emerged out of this intersection of hacking and propaganda."
Current events provide ideal descriptions, Gehl said, of what can happen in the wake of social engineering.
"The sort of misinformation that led people to believe that the (presidential) election was stolen, that there was a national conspiracy to switch votes, and that the right thing to do was to violently storm the U.S. Capitol (Jan. 6) — this sort of misinformation can be understood as social engineering," Gehl said.
"Beyond that, the 2020 election did see even more attempts by Russians as well as Iranians to sow chaos," he said. "We're also dealing with conspiracy theories about COVID-19. The concept of masspersonal social engineering can help us get a grip on what's happening."
The book is in production and should be out in a year and available in all the usual places, as are a couple of his other titles, Weaving the Dark Web and Reverse Engineering Social Media.
At Tech, Gehl teaches critical studies of communication technology, new media theory, software studies, basic Web design, and political economy of communication. His research interests include network cultures and technologies, alternative social media, and the Dark Web.
With their presentation, Gehl and Lawson joined the ranks of other recent SMA speakers, including General David Patreaus, Dr. Thomas Rid of Johns Hopkins, and researchers from the RAND Corporation.