Tech Debate finishes strong 12th in nation
Louisiana Tech's Debate Team rode a wave of success in the season's second half to a 12th place finish nationally against the 137 teams they competed against this year.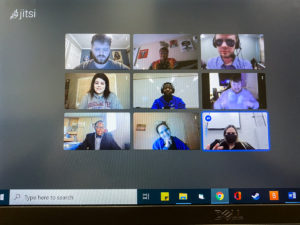 All competitions were virtual.
Freshman math major Emmitt Antwine finished as first place speaker and senior biomedical engineering major Katie McKenzie tied for sixth place speaker. Antwine and Alex Gibson, a member of the Bossier Parish Community College (BPCC) debate team, were second place overall for the season, and senior political science major Steve Garcia and McKenzie were fourth place.
As a team, Tech was fourth place overall in team debate.
In the season finale in early April—the International Public Debate Association (IPDA) National Championship Tournament—the team of Garcia and McKenzie and the team of Antwine and Gibson were octafinalists.
In individual debate in the novice division, Tech finished 13th.
Senior English major Matt Smart tied for 30th (out of 303 competitors) and junior communication major Kara Taylor tied for 32nd.
In the junior varsity division, senior political science major Skylar Dean was seventh place speaker.
In the professional division, as a team Tech finished fourth overall. McKenzie was 10th overall for the season and alumnus Kendrick Kruskie was 12th.
In addition, Kruskie was an octafinalist and fifth place speaker, and senior theater major Aria Giacona was a quarterfinalist in the professional division. Smart was a triple octafinalist.
Here are the results from other tournaments in the season's second half:
University of Southern Mississippi: Taylor, semifinalist and second place speaker, novice division;
University of Central Arkansas: Taylor, octofinalist;
BPCC: McKenzie, quarterfinalist, professional division;
Bowling Green State University: Garcia and Aria Giacona, quarterfinalist, varsity parliamentary debate;
Northwest Arkansas Community College: The team placed second overall; Garcia and McKenzie, semifinalist; Antwine and Gibson, finalists; Antwine, first place speaker; McKenzie, second place speaker; Garcia, third place speaker.
LSU-Shreveport: Antwine and Gibson, quarterfinalist.