Architecture students present Poverty Point proposal to Nungesser
During the fall of 2019, three Louisiana Tech University architecture students worked on a plan to enhance the Poverty Point World Heritage Site, the largest and most complex settlement in North Louisiana. These students were recently able to present their project to Louisiana's Lieutenant Governor, Billy Nungesser, who is looking to expand tourism in North Louisiana.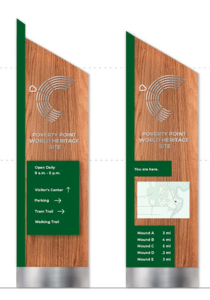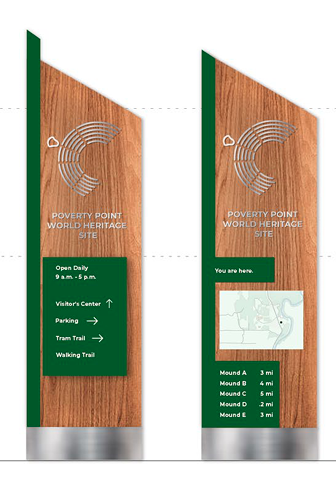 Miranda Sharp, Jakob Mier, and Traci Reyes took on the project under the direction of Kevin Singh, Professor of Architecture for Louisiana Tech's School of Design. These students came together through their shared memories of visiting Poverty Point on elementary school field trips.
Their proposal included three different phases of improvement for the prehistoric earthwork. Each step provided cost-effective solutions to making Poverty Point more accessible and visitor-friendly.
"The Louisiana Tech Architecture Department did an incredible job," Nungesser said. "They proposed three phases. The first phase has minimal improvements like signage and covered pavilions, the second phase is a little more enhanced with an upgrade to the facilities, and the third phase would include a new conference center with virtual interaction boards."
Sharp said the proposal started out as a project through one of the Architecture classes the students were taking in fall 2019. Then, two years later, they were approached about the opportunity to present it to Nungesser.
"We had no idea that our project would gain the attention it has," Sharp said. "Usually, these are just hypothetical projects that never see the light of day outside of the classroom. Ours was presented to elites within the state and I think that says a lot about our program here at Tech."
Reyes said the opportunity to present their proposal for the heritage site was a great way to begin their foundation of success. The presentation allowed the students to share their ideas with important people who could make their proposal a reality.
"I didn't think that our ideas were good enough to be shown to the lieutenant governor," Reyes said. "Everyone who came to the presentation had nothing but good things to say about our proposal and were interested in bringing them to fruition. It was such a validating experience."
Singh said it is important for students to be exposed to a project of this size. The students spend most of their academic careers working with hypothetical projects but working with clients is the best way for a student to grow while they are still pursuing their degrees.
"The exposure of working with real clients on real projects is a game-changer for these students," Singh said. "It's a resume builder and a way to boost their confidence."
Nungesser said the students shared several different ideas that were cost-effective and creative. Some of those ideas included a new watch tower and improved signage to be able to easily navigate the site.
"These students knocked it out of the park," Nungesser said. "They did incredible research and were incredibly creative. Young people can think outside of the box and they know how to bring the WOW factor to the table."
The project began as a page full of ideas and was added t0 after visiting the historic site. Over the quarter, these three students worked together to cultivate ideas that would engage tourists in and out of Louisiana.
"It started out as a lot of crazy hypotheticals," Miers said. "We went from, 'What about a hot air balloon?' to 'What if we made this site more friendly to the students who frequent it during field trips?' We knew what it could mean for the community if engagement became the main goal."
Reyes said the opportunity to present their ideas to others who could make the project a reality for Poverty Point was a once-in-a-lifetime opportunity that the students knew they could not miss. Each student expressed their gratitude to Singh and the lieutenant governor for listening to their ideas and pushing them towards success.
"As a design student, you never know what will happen to a project, especially after two years of it being placed on a shelf," Reyes said. "I can't thank Mr. Singh enough for trusting us with such an amazing opportunity. It's an example of how our faculty and administration here at Louisiana Tech truly care about giving students the experience they need to succeed in their careers."
Nungesser said he and the Louisiana Department of Recreation and Tourism are excited to begin working on bringing the ideas presented to life in order to increase tourism within the state and possibly out.
"We are excited to work with them, not only to improve the site but to also increase the tourism within the state," Nungesser said.
Singh said that over his last 15 years of being a professor, he has never had the opportunity to present to someone like Louisiana's lieutenant governor. This unique opportunity generates exposure and a sense of legitimacy within the program.
"This type of partnerships, this type of exposure, can mean a lot to our school's architecture department," Singh said.