School of Performing Arts sets cast for "25th Annual Putnam County Spelling Bee"
800×600 Normal 0 false false false EN-US X-NONE X-NONE MicrosoftInternetExplorer4 /* Style Definitions */ table.MsoNormalTable {mso-style-name:"Table Normal"; mso-tstyle-rowband-size:0; mso-tstyle-colband-size:0; mso-style-noshow:yes; mso-style-priority:99; mso-style-parent:""; mso-padding-alt:0in 5.4pt 0in 5.4pt; mso-para-margin:0in; mso-para-margin-bottom:.0001pt; mso-pagination:widow-orphan; font-size:10.0pt; font-family:"Times New Roman","serif";}
Louisiana Tech University's School of the Performing Arts has announced its cast for "The 25th Annual Putnam County Spelling Bee," directed by Cherrie Sciro, Lallage Wall Endowed Professor and coordinator of theatre at Louisiana Tech.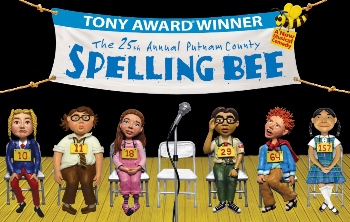 Winner of the 2005 Tony Award for Best Book of a Musical, "The 25th Annual Putnam County Spelling Bee," written by Rachel Sheinkin with music and lyrics by William Finn, follows six students of Putnam Valley Middle School as they compete in the annual spelling bee.  However, this is not an average contest as actual audience members will be selected to participate in the Bee. With the competition on, it will be a fight to the finish and only one student can be v-i-c-t-o-r-i-o-u-s.
The cast includes Orlando Shelly as Chip Tolentino, Aaron Anthon as William Barfee, Kevin Keeler as Leaf Coneybear, Jamie Robinson as Logainne Schwartzandgrubenierre (Schwartzy), Ashley Davis as Marcy Park, Maddison Gilcrease as Olive Ostrovsky, Molly Page as Rona Lisa Peretti, Trey Clark as Mitch Mahoney and Paul Crook as Douglas Panch.
"The 25th Annual Putnam County Spelling Bee" is a Signature Series event for the 25th Anniversary of Louisiana Tech's School of Performing Arts and will be the 2013-2014 school year's final production.  Performances are scheduled to run at 7:30 p.m. nightly, April 30 through May 3 in Howard Auditorium, located in the Howard Center for the Performing Arts on the corner of Adams Boulevard and West Arizona Avenue.
Tickets are $20 for general admission, $10 for students with a student ID, and $15 for youth under 14 years old and seniors 65 and over.  The Howard Auditorium Box Office, located in the lobby of Howard Auditorium, will open for general admission on April 16.  Hours are 1:30 p.m. to 4:45 p.m., Monday through Friday.  Box Office staff can be reached at (318) 257-3942.
For more information on the Louisiana Tech Department of Theatre, please visit us at
www.latechuniversitytheatre.com
or "like" our Facebook page at
www.facebook.com/latechtheatre
.  For further information and to learn more about upcoming events from the School of Performing Arts, please visit
http://www.latech.edu/performingarts/calendar.shtml
.
Written by Marian Fields – stonetheatre@gmail.com