Opening night set for Theatre Department production of 'Brighton Beach Memoirs'
The Department of Theatre at Louisiana Tech University will raise the curtain at 7:30 p.m., April 22 in Stone Theatre for its final production of the 2014-2015 school year, Neil Simon's classic "Brighton Beach Memoirs," directed by Dr. Ken Robbins.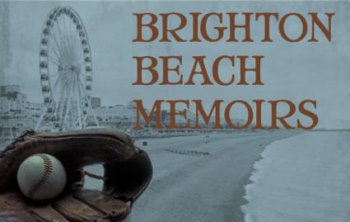 Performances for this production are set for 7:30 p.m. nightly, April 22 – 25 and April 30 – May 2 in Stone Theatre, located in the Howard Center for the Performing Arts on the Louisiana Tech campus. The play, regarded as Neil Simon's "funniest, richest and consequently the most affecting of his plays," centers on Eugene – a young teen growing up in Brooklyn in 1937. Dreaming of baseball and girls, he must cope with the mundane existence of Brooklyn, a formidable mother, an overworked father and his worldly older brother, Stanley. Throw into the mix his widowed Aunt Blanche and her two young yet rapidly aging daughters, and you have a recipe for hilarity served up Simon-style. This bittersweet memoir evocatively captures the life of a struggling Jewish household where, as his father states, "If you didn't have a problem, you wouldn't be living here." Ticket prices are $20 for general admission, $10 for students with student ID, $15 for youth under 14 years of age, $15 for seniors 65 years and older. Group rates are also available. Contact the Stone Theatre box office, located in the lobby of Howard Auditorium, at (318) 257-3942, Monday – Friday from 1:30 p.m. to 4:45 p.m., beginning April 7. For more information, contact the Louisiana Tech Department of Theatre at (318) 257-2930, visit www.latechuniversitytheatre.com, or access their Facebook page at www.facebook.com/latechtheatre. Follow them on Twitter and Instagram at @LaTechTheatre. To learn more about upcoming events from the School of Performing Arts, visit http://www.latech.edu/performingarts/calendar.shtml.
Written by Aadrise Johnson – stonetheatre@gmail.com