Waggonner Center to host CABL President Barry Erwin
The Waggonner Center for Civic Engagement and Public Policy at Louisiana Tech University will host Barry Erwin, president of the Counsel for a Better Louisiana (CABL) for a discussion on the state's budget crisis and possible options for solving the deficit dilemma.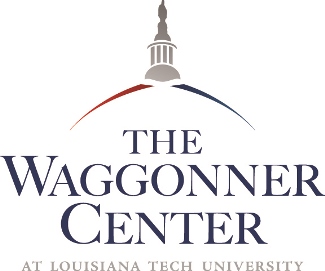 Erwin's presentation, which will focus on the gravity of the current and projected state budget deficits, the circumstances that produced these deficits and the legislature's options for dealing with the crisis, is scheduled for 3:30 p.m. February 18 in Wyly Auditorium on the Louisiana Tech campus. The event is free and members of the campus and local communities are strongly encouraged to attend this important discussion. "We are very excited to host Barry Erwin on the Louisiana Tech campus," said Dr. Jeremy Mhire, director of the Waggonner Center and associate professor of political science at Louisiana Tech. "CABL's public policy expertise will be invaluable during this current budgetary impasse." CABL is a nonprofit, nonpartisan statewide organization working on issues in the public interest by raising citizen awareness, advancing public policies, holding government accountable and fostering civic leadership. The organization was founded in 1962 with the mission of improving the quality of life for all citizens of Louisiana. "For decades, CABL has done yeoman's work trying to improve Louisiana's political and economic climate," Mhire said. "We hope faculty, staff, students and members of the community will join us for an informative session." The Waggonner Center for Civic Engagement and Public Policy, named for U.S. Representative U.S. Representative Joseph D. Waggonner who represented the Fourth Congressional District of northwest Louisiana from 1961 until1979, focuses on restoring the principles and values of bipartisanship – a hallmark of Rep. Waggonner's career – by educating and inspiring students to employ a critical, bipartisan approach as they become more engaged in the political issues and problems of our democracy. Fostering citizenship, bipartisan understanding, effective public policy and civic leadership among students, and engaging the public at large is at the core of the Waggonner Center's mission. The Center also seeks to foster and promote active and responsible civic engagement through an interdisciplinary combination of innovative curricular initiatives, academic outreach, and community outreach. For more information on the Waggonner Center at Louisiana Tech, visit www.waggonnercenter.org or email waggonnercenter@latech.edu.