Tech audiology grad named president of American Academy of Audiology
When she started in the Louisiana Tech's graduate program in audiology, Lisa Christensen remembers that she "didn't know how great it would be for me."
It's fairly evident now.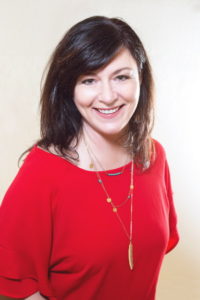 Christensen earned her master's degree in audiology from Tech in 2001 and was recently named president of the American Academy of Audiology (AAA), the first Tech graduate to become president of the national association.
"I loved my experience at Tech," said Christensen, a native of Camden, Arkansas. "Withsmaller class sizes, we had lots of interaction with our professors and our classmates. And because the field of audiology is relatively small, those classmates became great friends. I still talk to them now."
Today as the "face of the Academy," she said her responsibilities as the role of president also include chairing the meetings of both the AAA Board of Directors and the general membership meetings. One of her final tasks as president-elect in late October was speaking to the Louisiana Academy of Audiology in New Orleans. The weekend after that, she "sat in a sea of green at the Tech vs. North Texas (football) game," she said, a victim of living in the Fort Worth area and of the game being played in Denton. Tech won the Conference USA opener for both teams, 29-27.
"The Bulldogs made me proud," she said.
She has done the same for the University. Christensen is the audiology program manager at Cook Children's Medical Center in Fort Worth, where she supervises a team of audiologists, participates in pediatric audiology research, and treats patients.
"At Cook I am lucky enough to manage the program," she said, "still see some patients, and be able to conduct research to help find more ways to help children hear better and reach their potential."
Picking Tech for graduate school "was easy," she said. "I have many family members that have graduated from Tech, including my brother, my uncle (Gerald Reeves, who managed the Tech Bookstore for many years), and numerous cousins. My aunt, Rosemary Reeves, even worked at A.E. Phillips until just recently when she retired. So Tech has always felt like home."
The audiology program at Tech, she said, is a small one that delivers big.
"Smaller audiology programs don't get a lot of credit; however, I think the individual attention gained in those programs is irreplaceable," she said. "I had great experiences in Tech's campus clinic and also at the off-campus practicum sites. Sometimes we were required to drive a bit of a distance to some of the off-campus sites, but they were all worth it.
"Audiology is an extremely rewarding profession," Christensen said. "Every single day you give the gift of hearing to children and/or adults through hearing aids or implantable hearing devices.  Just look at some videos on social media of when people hear for the first time…it is truly amazing to a part of that."
 AAA is the world's largest professional organization of, by, and for audiologists. The active membership of more than 12,000 is dedicated to providing quality hearing care services through professional development, education, research, and increased public awareness of hearing and balance disorders. The organization's website, audiology.org, offers up-to-date information about all the Academy's programs and activities.