Waggonner Center to host presentation on public interests, policies
Dr. Mike Henderson, assistant professor of research and director for the Public Policy Research Laboratory at Louisiana State University, will conduct a discussion titled, "What do the people want?: Findings from the 2015 Louisiana Survey" at 2:00 p.m., April 16 in Wyly Auditorium located in Wyly Tower on the campus of Louisiana Tech University.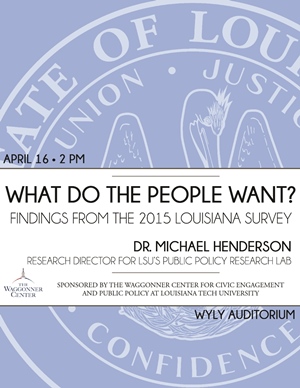 The presentation, sponsored by the Waggonner Center for Civic Engagement and Public Policy at Louisiana Tech, is free and open to the public. The Center, named for U.S. Representative U.S. Representative Joseph D. Waggonner who represented the Fourth Congressional District of northwest Louisiana from 1961 until1979, focuses on restoring the principles and values of bipartisanship – a hallmark of Rep. Waggonner's career – by educating and inspiring students to employ a critical, bipartisan approach as they become more engaged in the political issues and problems of our democracy. "Dr. Henderson's lecture comes at just the right time," said Dr. Jeremy Mhire, associate professor of political science at Louisiana Tech and event organizer. "As the 2015 legislative session gets underway, it is important to know where the people of Louisiana stand on any number of issues, from the state budget and higher education funding, to tax incentives and even the Common Core standards. Such information is an invaluable tool for state legislators as they try to represent their constituents. But it is also useful for citizens as they assess how well their legislators have done their job." Henderson received his Ph.D. in government and social policy from Harvard University. His research interests include public opinion and elections, and focuses on how information shapes what citizens learn about public affairs and how they use this knowledge in making decisions. In addition to his research, Henderson has been involved in the design of several polls including the 2007-2008 Associated Press Yahoo New Election Panel Study, which tracked the opinions of voters over the course of the 2008 presidential campaign, and the annual Education Next Poll, administered under the auspices of Harvard University's Program on Education Policy and Governance to track Americans' opinions of their schools and education reform. Henderson has published research in Public Opinion Quarterly, Political Behavior, the Quarterly Journal of Political Science, and the Journal of Elections, Public Opinion, and Parties, and his work has been covered by the New York Times, Washington Post, Wall Street Journal, and Atlantic. Fostering citizenship, bipartisan understanding, effective public policy and civic leadership among students, and engaging the public at large is at the core of the Waggonner Center's mission. Mhire says the Waggonner Center also seeks to foster and promote active and responsible civic engagement through an interdisciplinary combination of innovative curricular initiatives, academic outreach, and community outreach. "By working across traditional academic disciplines, the Waggonner Center aims to create an unprecedented academic experience that engages faculty, students, and community stakeholders alike," Mhire said.