Russian National Ballet Theatre to perform "Swan Lake" at Louisiana Tech
The Louisiana Tech Concert Association (LTCA) will host the Russian National Ballet Theatre for an exclusive performance of Pyotr Ilyich Tchaikovsky's "Swan Lake" at 7:30 p.m., April 29 in the Howard Center for the Performing Arts on the Louisiana Tech campus.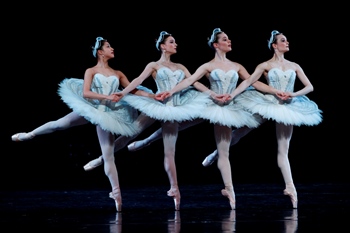 Directed by Elena Radchenko, artistic director for the Russian National Ballet Theatre, Swan Lake illustrates the story of Odette, a young woman cursed by the evil sorcerer Rothbart to become a swan during the day. To break the curse, Odette must find love, however, any betrayal will result in her remaining a swan forever. The internationally-acclaimed Russian National Ballet Theatre is its own institution with over 50 dancers of singular instruction and vast experience, many of whom have been with the company since its inception. The Theatre was founded in Moscow during the transitional period of Perestroika in the late 1980s, when many of the great dancers and choreographers of the Soviet Union's ballet institutions were exercising their new-found creative freedom by starting new, vibrant companies. Tickets for this exciting performance are $25 for general admission, $10 for students with student ID, $20 for youth under 14 years old and $20 for seniors 65 years old and up, and groups of 10 or more are $10 each. Tickets can be purchased at the Howard Center Box Office, located in the lobby of Howard Auditorium, by calling (318) 257-3942, Monday – Friday from 1:30 p.m. to 4:45 p.m. For more information on this event, please contact the Louisiana Tech Theatre office at (318) 257-2930 or email us at ltcaworkers@gmail.com. More information on the Louisiana Tech Department of Theatre can be found at www.latechuniversitytheatre.com. "Like" our Facebook page at www.facebook.com/latechtheatre and follow us on Twitter and Instagram at @LaTechTheatre.
Written by Baylee Wright – ltcaworkers@gmail.com