Waggonner Center hosts speaker to discuss public opinion
Louisiana Tech's Waggonner Center will welcome Dr. Michael Henderson to discuss The Louisiana Survey of public opinion Tuesday, April 25.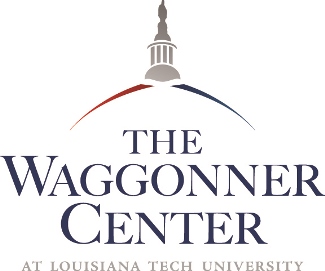 The Louisiana Survey is an annual survey sponsored by the Reilly Center for Media and Public Affairs at Louisiana State University and is designed to provide a nonpartisan source of public opinion data to politicians and media outlets. The ultimate goal of the Louisiana Survey is to assess progress and regression in resident's assessments of state government and government services. The survey is further dedicated to tracking public opinion on the contemporary policy issues that face the state. Each iteration of the Louisiana Survey contains core items designed to serve as barometers of public sentiment, including assessments of whether the state is heading in the right direction or wrong direction, perceptions about the most important problems facing the state, as well as evaluations of public revenue sources and spending priorities. Henderson is the director for the Public Policy Research Lab and an assistant professor in the Manship School of Mass Communications. His research focuses on public opinion, campaigns and elections and social policy. Henderson has worked on projects with the Associated Press, Duke University's Initiative on Survey Methodology and Harvard University's Program on Survey Research. His research and writing has appeared in Public Opinion Quarterly, New York Times, Wall Street Journal, Washington Post and The Atlantic. Henderson will speak at 4 p.m .in Wyly Auditorium. This event is free and open to the public.
Written by Judith Roberts – jroberts@latech.edu