History department sponsors visiting scholar's talk on black athletes' political activism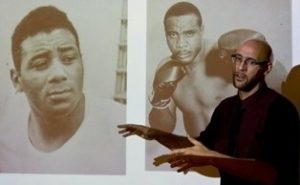 In commemoration of Black History Month, Louisiana Tech University's History Department will sponsor a talk,
"
The History of Black Athletes' Political Activism" by Dr. Louis Moore, Associate Professor of History at Grand Valley State University, Allendale, Michigan. Moore is the author of two new books:
I Fight for a Living: Boxing and the Battle for Black Manhood, 1880-1915
(University of Illinois Press) and
We Will Win the Day: The Civil Rights Movement, the Black Athlete, and the Quest for Equality 
(Praeger). A frequent public commentator on sports, race, and politics, he has answered listeners' questions about activism in sports for NPR's celebrated "Morning Edition" radio show, and recently has been a featured guest on several podcasts, including
In the Past Lane, BlogTalkRadio,
and
Not Another Sports Show
.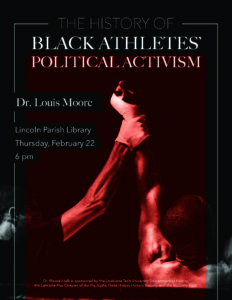 In this presentation, Moore will explore the long history of black athletes' political activism, tracing the relationship of activist-athletes of the Civil Rights Movement era to present-day athletes who fight for racial justice. "Today's activist-athletes," Moore notes, "are part of a long movement of black athletes using their platforms to create social change." The talk will take place at 6 p.m. Feb. 22 at the Lincoln Parish Library. Moore's talk is jointly sponsored by the Louisiana Tech History Department, the Lincoln Parish Library, and the Lambda-Rho chapter of the Phi Alpha Theta history honor society, with the support of the McGinty Trust. For additional information, contact Dr. David M. Anderson, associate professor of history and coordinator of Black History Month events, at
history@latech.edu
. The event is free and open to the public.