History professor speaks at U.S. State Department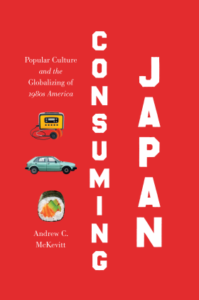 On April 4, Andrew C. McKevitt, assistant professor of history at Louisiana Tech University, spoke at the U.S. State Department in Washington, D.C., about his recently published book,
Consuming Japan: Popular Culture and the Globalizing of 1980s America
. The book, which was published in October 2017 by the University of North Carolina Press, explores the United States' multifaceted engagement with Japan in the last several decades, focusing specifically on Japan's place in American consumer society in the 1980s. McKevitt spoke to an audience in the Ralph J. Bunche Library, the United States' oldest federal library, founded in 1789 by the first secretary of state, Thomas Jefferson. The library serves as a research resource for State Department employees. Guest lectures are recorded and distributed around the world via the State Department's internal network. The assembled audience included foreign service officers and historians employed by the State Department. Also in attendance were two of Professor McKevitt's former students at Louisiana Tech: Caroline Hymel, who is finishing a master of public policy degree at nearby George Washington University, and Jacob Dietz, who is serving on an internship with the State Department's South Korea desk. McKevitt previously accepted an invitation to speak about his book in February to students and faculty at the College of William and Mary in Williamsburg, Virginia. While in the Mid-Atlantic region, Professor McKevitt also presented research from a new research project at the Business History Conference in Baltimore, Maryland.
Consuming Japan
is available now on
Amazon
or at the
UNC Press website
.