Tech aviation student attempts to circumnavigate the Earth
On a trip to Europe in 2013, Mason Andrews enjoyed a tandem paragliding experience that changed his young life.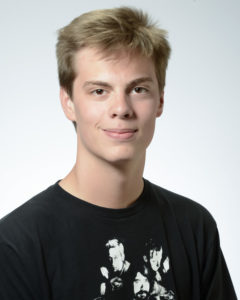 "I got to take the controls and…it really was just amazing," said Andrews, a Louisiana Tech freshman in the University's Professional Aviation Program. "A whole new world opened up." He plans to explore more of that world in August when he attempts to become the youngest solo pilot to circumnavigate the Earth; he celebrated his 18th birthday April 26. Although this is only his first year at Tech, he will be a junior in credit hours at the end of spring quarter. As about 40-percent of students who enroll in Tech's program do, Andrews already has his Federal Aviation Administration (FAA) Private Pilot Certificate; he also has his High Performance and Complex Aircraft endorsements and will have earned his Instrument Rating in the next few weeks. He got to Tech just in time to enjoy the aviation program's new fleet of Cessna and Piper aircraft. "I like to remind (future pilots) that it's a tough program to get into these days," he said. "It's easy to understand why. So keep your grades up, start learning about aviation, and be sure this is what you want to do. I couldn't see myself being anywhere else." After paragliding and just becoming a teenager, Andrews was already sure. He took an Introduction to Flight class with the Boy Scouts of America and since then has been "learning and getting licenses and ratings for aviation," he said. And now he's going for a not-easy-to-attain record. "Mason is a great student," said Jordan Lyons, associate professor and chair of Tech's Department of Professional Aviation. "How amazing to be a commercial flight student here at Tech having completed an 'around the world' flight? Whew!" Andrews could be just that come autumn. His reasons for considering the challenge are many. The biggest is that flying is his "favorite thing in life," and he hopes to "make a career of it with a major airline," he said. He also wants to "bring the record back to the U.S.A., where it belongs," he said. The current record-holder is an Australian who broke the old record in August 2016. If successful, Andrews will complete his journey in mid-August at the age of 18 years, three months and 21 days, shattering the current record by four months. Also, Andrews is calling this adventure "Mason's MedCamps Mission;" he hopes his trip will benefit the north Louisiana non-profit that provides a free summer camping experience for children with disabilities, a camp he was told about through a friend when they attended River Oaks School in Monroe. "I did counseling training in 2016, then was a full-time counselor last summer and will be one again this summer," Andrews said. "It's so rewarding; anyone who's done it will tell you the same thing. We get more out of it than the kids do. You really feel like you're doing something good, and it shows in the eyes of the campers." After camp, on July 9 from the Monroe Regional Airport, it'll be time to take off. The trip should be 40 days, give or take depending on conditions. He'll fly over or touch down in 20 countries or islands on five continents, and he'll fly over parts of the North Atlantic, the Mediterranean, the Red Sea, the Arabian Seas, the Indian Ocean, and the south Pacific. His family-owned plane — he flew it home, with four stops, from Seattle to Monroe — is a single-engine 1976 Piper Lance that will this summer be modified by a North Carolina company to carry 160 gallons of extra fuel, giving the craft a range of more than 2,205 nautical miles without refueling, an additional reserve of 2.92 hours of flight time. The longest leg should be the 2,004 nautical miles, from Hilo, Hawaii to Half Moon Bay near San Francisco, a 13-hour jaunt over the Pacific Ocean. The potential for a longer leg, Andrews said, is the leg from Samoa to Christmas Island, a raised coral atoll in the Pacific's northern Line Islands and part of the Republic of Kiribati. "The island has no navigational aids; you land purely by sight," Andrews said. "So if the weather deteriorates, it's on to Hawaii." Samoa to Hawaii would be roughly 16 hours. "The safety factor is acceptable if the risks are managed appropriately," Lyons said. "I am confident that Mason will do fine." He'll fly solo, but he's had plenty of help getting ready and he'll have a satellite phone for communication. He's been busy planning, flying, and going through survival training. There's flight planning, acquiring visas for 18 countries, landing permits, finding fuel on some of the island nations that don't have fuel; that has to be shipped in. A logistics company out of Cairo, Egypt has helped, too. "I've had to learn some new procedures, but I'm just following the paths others have taken," Andrews said. "I'm talking almost daily with the last two Americans who held the record and some others who've done it, except for the current record holder." Andrews quietly laughed. "You know, I doubt he wants to talk to me." So far, 282 pilots have circumnavigated the globe. But any of them come in no higher than second to Andrews' favorite pilot, "the best pilot of all time, in my opinion," he said of the man who flew the first solo transatlantic flight between North America and mainland Europe, from New York to Paris, in 1927. "Charles Lindbergh was just using the resources he had with really no knowledge of the weather or circumstances," Andrews said. "That flight was 33 hours with no sleep, with none of the navigational instruments we have. He's flying sheerly off magnetic headings." Lindbergh flew The Spirit of St. Louis; in honor of Louisiana's rich French heritage, Andrews will fly
The Spirit of Louisiane
.