Debate team earns top spot among U.S. institutions at Canadian competition
The Louisiana Tech University Debate Team continued its successful 2014-2015 debate season with an excellent showing at the Canadian Debate Championship held recently at the University of Western Ontario in London, Ontario.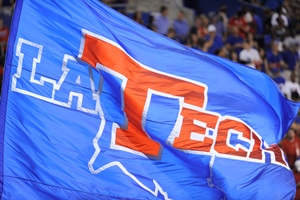 Louisiana Tech's debate team finished the competition as the highest ranked team from the United States, competing against some of the most elite schools in debate in North America including the University of Vermont and Yale University. "I am very delighted and proud of our team," said Shane Puckett, instructor of speech and director of debate at Louisiana Tech. "The unique skill set that our students possess allows them to perform extremely well within national and international debate circuits. Whenever we compete against these elite colleges, our students have the unique ability to critically analyze arguments from a wide range of perspectives. This gives Louisiana Tech an additional edge in competition." Some of the topics debated during this year's competitions ranged from prison reform to international law. When competing internationally, debaters become aware of various cultures and multiple perspectives while preparing for and making compelling arguments. "The Canadian Debate Championships was a great experience for our team to compete against North America's best teams," said Hannah Vincent, a senior debate team member. "All of our members gained new strategies and skills from this tournament. We hope to return next year and win the Canadian Championship for Louisiana Tech." Louisiana Tech's debate team competes under the auspices of its Department of Speech Communication, which is housed in the School of Communications. Open to students in all majors, the debate team consistently ranks at or near the top in competitions across the nation. Debate activities and competitions provide students with invaluable experiences in improving communication skills, which are an asset in nearly every career field. Through teaching and research, the Department of Speech Communication addresses the many ways communication functions to create, sustain, and transform personal life, interpersonal relations, small group relations, organizational culture, cultural conversations in society, and the effects of ethics and the media on society. It also promotes competencies required for various modes of communication and the development of skills for analyzing, interpreting, and critiquing communication problems and questions. For additional information about the Louisiana Tech Debate Team, contact Shane Puckett at spuckett@latech.edu.