Percussion Ensemble to perform May 9
Louisiana Tech University's Percussion Ensemble will present its final performance of the school year Monday, May 9.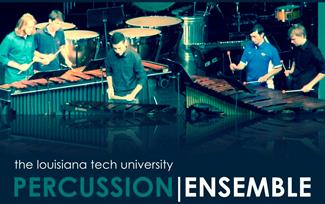 The concert will include a popular xylophone rag titled "Triplets," which features percussion major and Bossier City native Alek Gonzalez. Also on the program is Carlos Chávez's seminal three-movement work, "Toccata for Percussion." This sextet, written in 1942 for pitched and non-pitched percussion, has become a standard in the repertoire. Other works to be performed are "Postludes" by Elliot Cole, a quartet that explores the sonic capabilities of the vibraphone; "Head Talk" by Mark Ford, a piece composed entirely for drums without their shells; "Scavenger Music" by Christopher Deane, a serious take on found sounds; "Wart Hog #3" by Austin Wrinkle, a work inspired by Middle Eastern rhythms and instruments; and "The Gilded Cage" by Susan Powell, a tour de force for percussion quartet. The event will begin at 7:30 p.m. in Howard Auditorium on the Louisiana Tech campus. Admission is free and the event is open to the public.
Written by Judith  Roberts – jroberts@latech.edu