Department of Theatre set to drop curtain on 'Tartuffe'
Louisiana Tech's Department of Theatre is set to premier its first production of the year next week in
Tartuffe,
directed by Cherrie Sciro, coordinator of theatre at Louisiana Tech.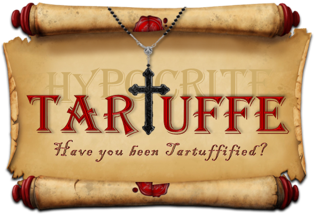 The cast and crew invite everyone to come experience this hilarious, thrilling, and famous farce in Stone Theatre, located in Louisiana Tech's Howard Center for the Performing Arts, on November 1-5 at 7:30 pm and November 6 at 2:00 pm.  Ticket prices are $20 general admission, $10 students with student ID, $15 youth under 14 years old, and $15 seniors (65 and up). For group rates or to purchase tickets, please contact the box office at 318-257-3942 Monday – Friday from 1:30 p.m. to 4:45 p.m. Tickets are also available for purchase at www.latechuniversitytheatre.com. Tartuffe, Moliere's comic masterpiece featuring his hilarious use of satire, brings us Tartuffe – a religious/zealot con artist extraordinaire who oozes godliness and charisma. Will Tartuffe's hypocrisy be found out before Orgon's family is completely given to the madness of Tartuffe's secret plan? Is his plan to take everything that is important to Orgon: his wife, family, money, and place in the community? This famous farce is a cautionary tale told with lightning quick wit, complete with star-crossed lovers, a discontented wife, a very frustrated son, and a hoodwinked husband. With a plot that could be ripped from today's headlines,
Tartuffe
, features hilarious conflict and rapid-fire resolution! For more information on the Louisiana Tech Department of Theatre, please visit www.latechuniversitytheatre.com , "like" their Facebook page at Facebook.com/LaTechTheatre, or follow them on Twitter and Instagram at @LaTechTheatre.
Written by Katie Brumfield – stonetheatre@gmail.com