Architecture, School of Design take home awards
Louisiana Tech University's School of Design has received recognition from the American Institute of Architects for its design work with MedCamps of Louisiana.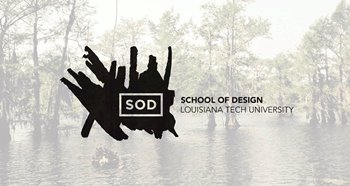 Two projects, Hero's Launch and the Larkin Gibbs Memorial Pavilion, were celebrated for excellence in design from AIA's Gulf States Region Honor Awards program. Overall, 28 projects were recognized from architects in Alabama, Arkansas, Louisiana, Mississippi and Tennessee. One hundred forty-four were entered into the program. Various design professionals juried the projects. Assistant Professor Brad Deal and Associate Professor Robert Brooks run the design build operation in the School of Design. They have worked with MedCamps for three years to build various projects. The Hero's Launch is an ADA accessible canoe and paddleboat launch designed specifically for children with various special needs and disabilities. AIA jurors comments included that this was a jury favorite: "Some projects poke the imagination, some projects prod our intellect, some projects mystify and/or intrigue, and some projects tug at the heart. This is one of those." The Larkin Gibbs Memorial Pavilion was designed as a barrier-free space large enough to accommodate the multiple daily gatherings at MedCamps. AIA jurors commented that this was, "clearly a labor of love; this project provides its community with a terrific new place of congregation." Students in Architecture 335 in 2014 helped design the Larkin Gibbs Memorial Pavilion, and students taking the same class in 2016 helped design the Hero's Launch. Deal and Brooks received the Honor Awards at the AIA Conference on Architecture in Orlando in April.
Written by Judith Roberts – jroberts@latech.edu