Mhire to serve as visiting professor at Columbia
Dr. Jeremy J. Mhire, Joe D. Waggonner Professor of Political Science and Director of the Waggonner Center for Civic Engagement and Public Policy, has been named the inaugural Visiting Professor in the Core Curriculum at Columbia University for the 2018-19 academic year.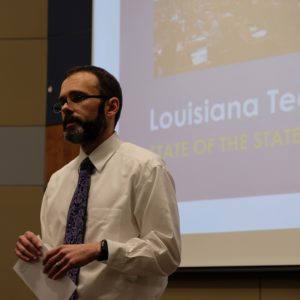 Mhire was selected through a national search that included tenured faculty and administrators interested in general education curricular innovation. "This is a terrific opportunity for me, my family, and Louisiana Tech," said Mhire. "Columbia has one of the oldest, most prestigious, and most rigorous core curricula in the world, and being there next year will provide first-hand experience in every aspect — teaching, research, and administration — of its organization. I hope to leverage every bit of that experience to Tech's benefit." The position was designed to create a formal relationship between Columbia University and other institutions in the U.S. committed to excellence in undergraduate education. "Jeremy is one of our most talented young faculty members," said President Les Guice. "His selection for this prominent position by one of the nation's leading institutions is a tribute to his scholarly work and his desire to have a positive impact on education. I am confident Jeremy's experience at Columbia will stimulate meaningful discussions of curricula to enhance learning opportunities for our students in the future." Mhire has been a member of the School of History and Social Sciences at Tech since 2008. Before coming to Tech, he was a lecturer and post-doctoral fellow at the University of Virginia. Mhire received his Ph.D. in Political Science from LSU in 2006. In 2009, he was a fellow in the Center for American Political Studies at Harvard University.