Quenton Buckhalter
For Quenton Buckhalter, being a news correspondent and TV personality was a dream of his since he was in middle school.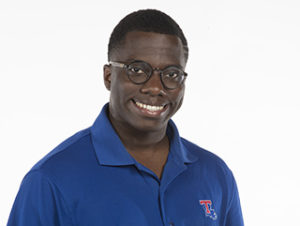 A double major in Communication and Media Studies and Spanish, the former Orientation Student Leader (OSL) is interested in the broadcast side of communication.
"A degree in communication is broad and I knew that I would be able to do a lot with it in the long run" he said. Buckhalter has worked with University Communications, where he helped produce and create videos for the University.
The Monroe native chose Louisiana Tech because "it felt like home when I came for my campus visit," he said. "It's not too close to home, so I can get the full college experience and be independent, but it's not too far away either; when I want to go home, it's not a hassle."
Quenton is passionate about his career, but he is also actively involved throughout campus. Entering his senior year, Quenton is a member of United Afrikan American Men, Alpha Phi Alpha Fraternity Inc., Black Student Union, College of Liberal Arts Ambassadors, and Student Recruiters. Quenton was selected to be an Orientation Student Leader (OSL) in 2017.
"I felt very proud to be an OSL" he said. It was the first organization that he wanted to be a part of after going through orientation in 2015 with his own leader, Parker Beagle.
Quenton didn't make the staff until the second time he applied.
"It was one of the most important 'Tech Goals' on my list," he said. "Being a part of Louisiana Tech's Orientation Program is one of the most special opportunities that this university has to offer – it's almost impossible to sum it up in words."
Entering his final years at Tech, Quenton has some advice for prospective and incoming students.
"Academics should be your top priority, but have fun too," he said. "Get involved and do what YOU want to do. Make your years matter."