Waggonner Center closes year with discussion on state politics
The Waggonner Center for Civic Engagement and Public Policy at Louisiana Tech University will host Dr. T. Wayne Parent, the Russell B. Long Professor of Political Science at Louisiana State University, at 2:00 p.m. May 12, for its final presentation of the 2014-2015 academic year.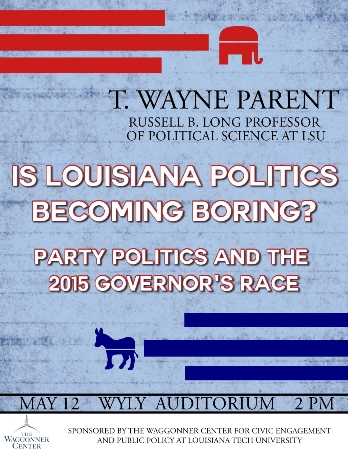 Parent will lead a discussion titled, "Is Louisiana Politics Becoming Boring?" which will focus on several areas of party politics including the 2015 race for governor in Louisiana. The event will take place in Wyly Auditorium located in Louisiana Tech's Wyly Tower of Leaning. Admission is free and the public is cordially invited to attend this entertaining and thought-provoking discussion. "Dr. Parent's lecture has academic importance, no doubt," said Dr. Jeremy Mhire, associate professor of political science at Louisiana Tech and event organizer. "Louisiana politics has always been idiosyncratic – sui generis, if you will – even when compared to that of the other southern states. But the topic is also of practical importance, especially considering the rather large problems facing our elected officials today. As we approach the upcoming gubernatorial election, knowing which way the political breezes are blowing is no small matter." In addition to holding an endowed professorship, Parent has also served as the chair of the Department of Political Science at LSU, and as associate dean of their College of Arts and Sciences. Parent's teaching and research focuses primarily on southern politics, elections, and Louisiana politics. He is the author of numerous books and scholarly articles, including his most recent work, "The Louisiana Field Guide: Explaining Life in the Pelican State." Parent is a widely-recognized political commentator and has become a fixture in election-night coverage, both locally and nationally. The Waggonner Center for Civic Engagement and Public Policy, named for U.S. Representative U.S. Representative Joseph D. Waggonner who represented the Fourth Congressional District of northwest Louisiana from 1961 until1979, focuses on restoring the principles and values of bipartisanship – a hallmark of Rep. Waggonner's career – by educating and inspiring students to employ a critical, bipartisan approach as they become more engaged in the political issues and problems of our democracy. Fostering citizenship, bipartisan understanding, effective public policy and civic leadership among students, and engaging the public at large is at the core of the Waggonner Center's mission. Mhire says the Waggonner Center also seeks to foster and promote active and responsible civic engagement through an interdisciplinary combination of innovative curricular initiatives, academic outreach, and community outreach. "By working across traditional academic disciplines, the Waggonner Center aims to create an unprecedented academic experience that engages faculty, students, and community stakeholders alike," Mhire said.