Waggonner Center to host Constitution Day presentation
The Waggonner Center for Civic Engagement and Public Policy at Louisiana Tech University will sponsor a Constitution Day presentation by Dr. Jeremy Bailey, the Ross M. Lence Distinguished Teaching Chair and associate professor of political science at the University of Houston, at 2:00 p.m. Friday in the auditorium of University Hall on the Louisiana Tech campus.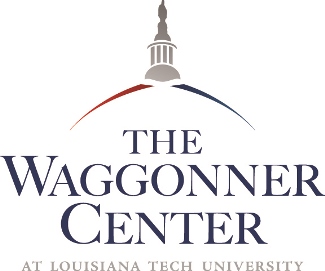 Bailey's presentation titled, "What Makes the Constitution the Authority," will look at James Madison's decision to become the father of the U.S. Constitution. The event is free and members of the campus and local communities are invited to attend. "The Center is excited to host Professor Bailey's talk," said Dr. Jeremy Mhire, director of the Waggonner Center. "Most people know of James Madison as the Father of the Constitution, though few know of his ambivalence towards our founding document. Professor Bailey will help us see the reason(s) for Madison's ambivalence, as well how those reasons can inform our understanding of the Constitution even today." Bailey's research interests focus on executive power, constitutionalism and American political thought and development. He is the author of "Thomas Jefferson and Executive Power" (Cambridge University Press 2007), "The New Unitary Executive and Democratic Theory," (American Political Science Review 2008) and "The Contested Removal Power, 1789-2010" (University Press of Kansas 2013) which was coauthored with David Alvis and Flagg Taylor and was named a 2014 "Outstanding Academic Title" by Choice. His most recent book, "James Madison and Constitutional Imperfection" will be released soon from Cambridge University Press. Before joining the faculty of the University of Houston in 2007, Bailey attended Rhodes College and received his Ph.D. from Boston College, where his dissertation was the 2004 co-winner of the APSA's E. E. Schattschneider Prize for best dissertation in American politics. The Waggonner Center for Civic Engagement and Public Policy is housed in the College of Liberal Arts at Louisiana Tech. Its mission is to foster citizenship, civic engagement, effective public policy, and civic leadership among students and the public at large. The Center also seeks to promote active and responsible civic engagement through an interdisciplinary combination of innovative curricular initiatives, academic outreach, and community outreach. For more information on the Waggonner Center at Louisiana Tech, visit www.waggonnercenter.org or email waggonnercenter@latech.edu.