Poetry Society to present reading, release of student journal
The Louisiana Tech University Poetry Society will present a poetry reading to announce the release of its student journal, "The Quatrain," at 5 p.m. Tuesday, Dec. 8 in George T. Madison Hall, Room 105.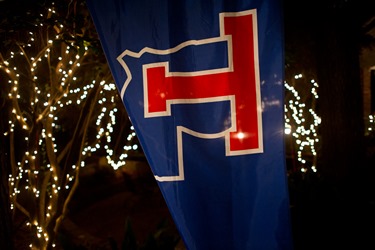 Student authors from the society will read from their works published in the first edition of the publication. This event is open to the public, and copies of the journal will be available for sale. "The Quatrain" is a print and electronic annual journal which publishes high quality undergraduate and graduate writing and art. According to the Poetry Society's faculty adviser, Dr. Ernie Rufleth, the compilation includes "full-dress, researched, academic essays and scholarly explorations, photography, life-writing, sculpture, cultural criticism, work that has a reflective, autobiographical style, and creative writing in all its forms." Rufleth says the journal seeks to display samples of the interesting, original and quality work being produced by gifted students and emerging talents from Louisiana, Arkansas, Oklahoma and Texas. "This four state region, our geographical quatrain, is our primary interest." "I am absolutely delighted to have a public reading for the first issue of 'The Quatrain,'" said Dr. Don Kaczvinsky, dean of Louisiana Tech's College of Liberal Arts. "Dr. Rufleth and the students have worked tirelessly to see the journal in print, and I believe the publication will elevate the standing of Louisiana Tech as the premier university in the four-state region for undergraduate education in literature, culture and the arts." The Quatrain is made possible by generous funding from the George E. Pankey Eminent Scholar Professorship in English, which is held by Kaczvinsky.
Written by Judith Roberts – jroberts@latech.edu