Architecture professor publishes book
Louisiana Tech University Professor Guy W. Carwile and Karen Kingsley have recently completed a monograph titled "The Modernist Architecture of Samuel G. and William B. Wiener: 1920-1960, Shreveport, LA," published by LSU Press.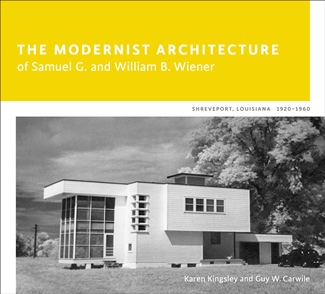 The book examines the work of the Weiner brothers from the 1920s through the 1960s and details the process of their designs in Shreveport. The book includes architectural description of the buildings, archival images, recent photographs, and a discussion of the social and economic culture of the geographic area. As the book jacket describes, "Kingsley and Carwile braid a broader history of modern architecture together with details about the Wieners' commissions and cultural milieu, allowing readers to consider the brothers' remarkable careers in the context of their contemporaries and modernist architectural trends in the nation as a whole. As a result, the book illuminates this internationally significant yet little-known legacy of Louisiana." Carwile is the Ken Hollis Endowed Professor of Liberal Arts in the School of Design at Louisiana Tech University. Kingsley is professor emerita of Tulane University's School of Architecture and the editor-in-chief of the Society of Architectural Historians' Buildings of the United States Series.
Written by Judith Roberts – jroberts@latech.edu