Professor explores underappreciated part of U.S., Japan relations
In the 1970s and 1980s, while popular films and literature recycled old anti-Asian imagery and crafted new ways of imagining the "yellow peril," and while formal U.S.-Japan relations remained locked in a holding pattern of Cold War complacency, a remarkable shift was happening in countless local places throughout the United States: Japanese goods were remaking American consumer life and injecting contemporary globalization into U.S. commerce and culture.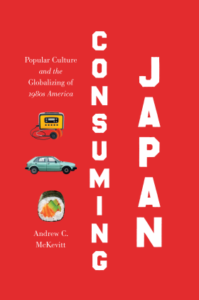 What impact did the flood of billions of Japanese things have on the ways Americans produced, consumed, and thought about their place in the world? Louisiana Tech assistant professor of history Andrew "Drew" McKevitt has the answers in his new book, "Consuming Japan: Popular Culture and the Globalizing of 1980 America," which explores the rich, until-now largely overlooked history of U.S.-Japan relations in the 1970s and 1980s told through the lens of consumerism in the United States. Published in October by The University of North Carolina Press, the book is available in paperback from Amazon ($27.95, 288 pages) or wherever books are sold. "Consuming Japan" is also available in hardback and on Kindle. McKevitt's work spotlights the intense and ultimately fleeting moment in 1980s America when the future looked Japanese. Would Japan's remarkable post–World War II economic success enable the East Asian nation to overtake the United States? Or could Japan's globe-trotting corporations serve as a model for battered U.S. industries, pointing the way to a future of globalized commerce and culture? McKevitt earned his Ph.D. from Temple University in 2009, then served as the Hollybush Fellow in Cold War History at Rowan University and as a visiting assistant professor of history at Philadelphia University before joining Tech's Department Of History in 2012. At Tech, he teaches undergraduate and graduate courses in the history of U.S. foreign relations, the postwar United States, modern Russia, and modern Japan. Follow
@LaTechHistory on Twitter
for news and updates from Tech's Department of History.