Free documentary viewings celebrate French in Louisiana
The Council of Development of French in Louisiana (CODOFIL) is celebrating its 50th
birthday with activities that include music and food festivals, weekend picnics, and film showings throughout the state and throughout the year. A high point of festivities will be the dedication of the new CODOFIL building in Lafayette in the spring.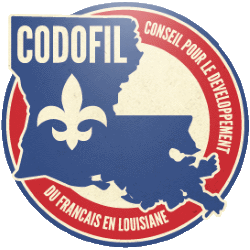 Locally, Dr. Dolliann Hurtig, Louisiana Tech's CODOFIL representative and President of the CODOFIL Consortium, is sponsoring a short film fest at the Lincoln Parish Main Library. The events are free and the public is invited. Dessert will be served after all the short film viewings. The series of documentaries is from the collection titled
Gumb-Oh! La! La!
Here are the dates for future showings, each in the Lincoln Parish Main Library Community Room:
Feb. 8, 6-7 p.m. Documentaries (in French with English subtitles) on André Courville, singer, and Merline Courteaux, Houma Indian.
March 22, 6-7 p.m. Documentaries: Mark Krasnoff, actor, and Jolene Adams, educator.
April 19, 6-7 p.m. Documentaries: Richard Guidry, linguist and educator, and Horace Trahan, musician.
Dr. Hurtig is grateful for the support of the colleagues and students at Tech, particularly the help of Madame Dori St. Amant, and the assistance of educators and students at Grambling State University, Ruston High School, and Cedar Creek High School.