Nomvula Kgoale
Anyone who has the word goal in their name is destined to be a soccer player.
Meet Louisiana Tech University senior Nomvula Kgoale, a geographical information science major from Polokwane, South Africa. Kgoale is her name, and soccer is definitely her game.
Entering her third year at Louisiana Tech after spending one year at Tyler Junior College and one year at Lindsey Wilson College – she led the Blue Raiders to an NAIA National Championship – Nomvula has excelled for the University as both a student and an athlete.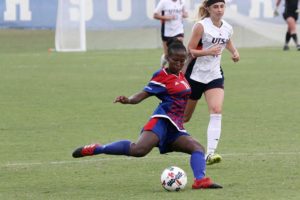 The two-time all-Conference USA selection on the pitch has plenty of honors in the classroom too. Two-time Conference USA Commissioner's Honor Roll. Two-time All-South Region Scholar. And a member of the 2017 C-USA All-Academic Team.
Why Tech?
"We had played against (Louisiana Tech) during the spring season while I was at Tyler Junior College," said Nomvula. "I liked how they played compared to the other teams we played against. I was very excited when they had an interest in me. I didn't have to approach them and say I'm interested in your school. They approached me."
Geographic information science is the scientific discipline that studies data structures and computational techniques to capture, represent, process, and analyze geographic information.
"For example, the government may want to know the amount of crime that occurs in (an area)," said Nomvula. "So you would go to that area and gather the data. A lot is done on the computer, but the real data (is obtained) by going out and getting it. Gather, analyze, and then present your findings."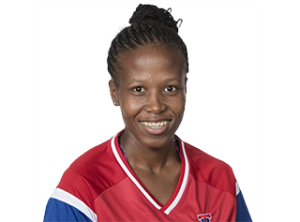 With one season remaining – Nomvula will lead Louisiana Tech into the 2018 campaign Friday at 7 p.m. against Texas State at the Lady Techster Soccer Complex – the 22-year-old is focused on ending her collegiate career on a high note.
What comes next?
"There are a lot of options," said Nomvula. "I could get a job but I could also try out for professional soccer. I'm not sure yet. I would like to try (to play professionally) before I get into a job. I would like to try out for the South Africa national team. I'm not a planner. I don't plan my life. I take it as it comes. Sometimes when the time comes, I don't do what I actually planned. I will take it as it comes. I think I may write for a job."
Wait, write?
"I write," she said. "If soccer is over for me, I will continue with my writing. I don't know if it will be a book or if I will go and talk to people, but I write a lot. I don't know exactly what the writing has for me, but it is an option for me."
"I would call it poetry. If you know an author named Rupi Kaur. She is an amazing woman. My writing is similar to hers. It is short, kind of poetry. Sometimes it goes quite longer, but sometimes it is very short. It's very simple. I would say my writing is similar to Rupi Kaur."
Nomvula is a well-rounded young lady who will leave Louisiana Tech prepared for whatever is next.
I have nothing
And because I have nothing
I am not in need
When I am not in a state of need
Then I have everything.